We aim to deliver the best interventions to all clients, and in doing so, we collaborate closely with them and we devise individually tailored treatment plans that meet the particular needs of each client. In this manner, we support them, and we help them develop and strengthen their abilities. As a result, clients become increasingly more independent, and learn to manage their emotions, thoughts, and behaviors more efficiently, which facilitates emotional and physical well-being.
We offer caregivers (parents/family members/teachers, etc.) education through didactic sessions, and through live-coaching while they interact with their children or students (enabling parent-child or teacher-student) enabling them to acquire vital skills and learn to deal with a wide range of situations.
Few of the services we offer fall into the following categories:
Parent-Child Interaction Therapy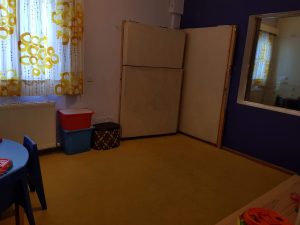 We help you and your child (2½ – 7½ years old) during one-on-one play at our specially designed environment to:
Strengthen the parent-child relationship
Cultivate respect and discipline in your child
Increase your child's self-esteem
Develop your child's abilities in managing disappointment and other feelings
Encourage positive and pro-social behavior
Increase concentration levels
Support your child's achievement in school
Develop frustration tolerance
Improve your child's social skills
Contribute to your child's short-term and long-term contentment in life
Please refer to our Fees document for details on current fees.
Acceptance and Commitment Therapy (ACT)
For decades, traditional psychological therapy was based on a model of disease that categorized people's difficulties, problems, or skill deficits into illnesses or disorders according to the symptoms they exhibited. The goal of such a focus was primarily to reduce symptoms.
ACT (Acceptance and Commitment Therapy) is a relatively new approach, distinct from traditional forms of psychological therapy because it takes into account human nature and understands the spontaneous, natural, but dysfunctional ways in which people try to cope with their problems.
Thus, ACT does not focus on "diseases", but on helping each person understand that the spontaneous ways they naturally use to manage their problems are often ineffective and lead to further problems, since they do not address the problem at its root.
The main objectives of ACT are:
help people to recognize what they do when faced with problems and to evaluate whether their behaviors are beneficial or harmful, with the aim of being able to distinguish between the two
help them identify their values (what is really worthwhile for them in 10 key areas), in order to gain direction in the most important aspects of their lives
train them, through experiential and other methods, in a 5 step process that contributes to managing their emotional pain, in order to be more psychologically resilient
educate them on how to choose behaviors based on their values in order to experience a more meaningful and fulfilling life, and
help them to set specific, measurable and achievable goals that are consistent with their values, so that their progress is concrete, measurable and feasible

ACT is a highly effective approach that we use in people >10 years of age who experience problems or limitations, such as:

anxiety
psychosomatic problems
panic attacks
depression
adjustment difficulties
difficulties in social relationships
obsessions and compulsions
loss
depression
suicidal thoughts
aggression
reactivity
oppositional behavior
dangerous or risky behavior
lack of self-discipline
insufficient planning and organization
lack of motivation
lack of clarity
difficulty making decisions
performance problems
Psycho-Educational Evaluation
The Psychoeducational evaluation that we offer is a detailed assessment of your child's:
cognitive
academic
emotional, and
behavioral functioning
Such an evaluation involves the use of specialized psychometric tests that assess the aforementioned areas of functioning. The assessment requires several (child-tailored) sessions between the psychologist and the child, and one or two sessions with the parents.
The cognitive domain is assessed with the "Wechsler Intelligence Scale for Children, Fifth Edition (WISC-V)". This Scale is a complete clinical tool for the comprehensive assessment of general cognitive function of children aged 6 years and 0 months to 16 years and 11 months (6: 0 – 16:11). The Scale is used as part of an assessment to identify intellectual giftedness, learning difficulties and cognitive strengths and weaknesses. The results can serve as a guide for interventions and decisions for inclusion in appropriate (educational or clinical) contexts.
Once the evaluation is completed, your child's responses are evaluated carefully, scored, and compared to a normative sample of same age children. Then the results on the different tests are added into composite scores and are interpreted and integrated into a detailed written report. The report includes suggestions for interventions, treatments, or further evaluations, as well as suggestions for the child's teacher, school, or the Ministry of Education and Culture for exemptions, or provision of specialized arrangements.
Please refer to our Fees document for details on current fees.
Computerized Assessment of Attention Variables
The T.O.V.A.® is a (language and culture free) computerized test for objective measurement of variables of attention. Attention is a complex system that allows the individual to filter relevant and irrelevant information, maintain and process mental representations, and monitor and modulate responses to stimuli. Attention, therefore, usually refers to a multifactorial set of processes that goes beyond the simple ability to encode information. Attention includes several processes, such as sensory selection (filter, focus, alternation between stimuli), response selection (response intention, initiative and inhibition, active change and executive control), and attentional capacity (effort, sustained performance, alertness). Attentional deficits can therefore affect one or more of these processes and can be classified according to their particularities.
The T.O.V.A. test considers the multifaceted nature of attention and assesses a number of these processes, including:
the ability to maintain attention,
the ability to control impulses,
the ability to process information quickly,
and the ability to respond consistently to target stimuli (response time consistency).

The T.O.V.A. is a Class I medical device manufactured in accordance with the European Union's Medical Device Directive (MDD 93/42/EEC), for use in people aged 4 to 80+ years. The test taker's reactions are measured with a high accuracy of one millisecond (±1 ms) and their performance is compared to a large age- and gender-matched normative sample, as well as to a sample population of individuals independently diagnosed with ADHD. These comparison results are used to create an immediately available, easy-to-read report.
Is the TOVA assessment necessary in the assessment of ADHD?
There is no objective way to diagnose ADHD. The usual diagnostic procedures pursued by psychiatrists, neurologists, pediatricians, and other clinicians are based largely on subjective assessments of perceived behavior. Research shows that, although a computerized test may not be sufficient for establishing the diagnosis of ADHD, it is however inappropriate to make the diagnosis of ADHD without using at least one computerized TEST (such as the TOVA). According to research published in the Journal of Clinical Psychology, the TOVA correctly identifies 80% of the sample with attention deficit disorders and 72% of the sample without attention deficit disorder. Cases misclassified by teacher ratings are often correctly classified by the TOVA and conversely. Therefore, the TOVA makes a unique and important contribution to diagnostic evaluations (J Clin Psychol 54: 461–476, 1998).
The cost of the T.O.V.A. assessment, including the written report (in English) and the oral explanation of the results, is €70 for one of the two domains assessed (visual or auditory), or €100 for the assessment of both the visual and the auditory domains.
Parent Education and Guidance
After the intake interview and understanding of the nature of problems faced by the child and family, we provide parents with personalized education tailored to the needs of their family and child.
For such personalized education, we take into account all personal concerns, past and current situations of each family and draw on our rich clinical experience, evidence-based methods, and in-depth knowledge of the factors that affect emotional, behavioral, and learning domains, as well as communication techniques and appropriate methods to meet the basic needs of each child.
Parenting Education is very effective, since parents learn communication and other techniques that help their children feel secure and safe. It is therefore an essential component of intervention with many families, and it is incorporated in various evidence-based treatments, among which Parent-Child Interaction Therapy for Oppositional-defiant behaviors, Attention-Deficit and Hyperactivity, and Conduct problems, as well as Cognitive-Behavioral Therapy for management of stress, general anxiety, social anxiety and selective mutism, and specific phobias.
Please refer to our Fees document for details on current fees.